You can certainly find some beautiful custom sunflower wedding invitations and cards that can suit a variety of budgets.
Many of these sunflower invites can also cater for a range of guest numbers from small to large. I've picked out my favorite selection of wedding stationery that can be personalized online, either by you or the seller depending where you make a purchase from.
Some designs of wedding stationery need to be printed yourself while others are printed out for you and delivered before the big day.
Note: This post contains affiliate links for which I may be compensated.
Sunflowers really make a gloriously happy theme for a wedding occasion. They are widely known as the flower of the sun.
This nickname came about because the flower heads appear to follow the path of the sun as it gradually travels through the sky from morning until night.
This flower makes for a bold and colorful scheme that does particularly suit summer and also Fall seasons due to the style of the designs and the color ranges that are used.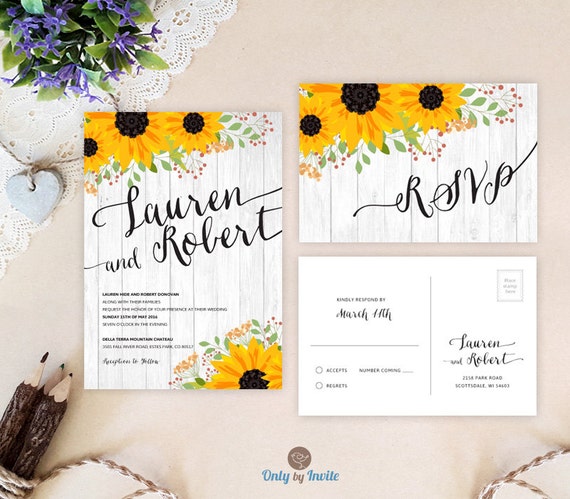 Buy this Shabby Chic Sunflower Invite and RSVP Set from OnlybyInvite at Etsy
I love the elegant look of this pretty floral design. This is for a set of flat invite wedding invitations and matching RSVP cards. The set will be customized for you by the seller with your own personal wedding information.
A digital proof file will be sent to you which you can then look over to check that all the details are correct. Once you have approved the design, your order will be printed for you by the seller and shipped.
Buy this Custom Digital 5x7 Mason Jar Design Flat Card from MissBlissInvitations on Etsy
Mason jars are bang on trend and I love how the bright summer blue on the outline of the glass works so well with the gorgeous yellow flower heads. It provides a bright and breezy look in contrast with the rustic, country look of the wood background.
After purchase, contact the seller with your custom details so she can personalize the design just for you and send you the completed proof for you to approve.
You will then check the proof so she can send you the finished digital file to print at home or get printed from a print shop or online store.
Alternatively, this seller can also get your invitations printed professionally for you at an extra cost for which you can get a quote on the price.
Many more Sunflower Wedding Invites are available at Etsy
My Own Design of Sunflower Themed Wedding Invitations
Get this Custom Invitation Design from Zazzle, Customize it Online and Have Prints Delivered to You
This is my own design from my Zazzle shop and it features a real country Fall theme with the rustic wood, flower and butterfly.
I think you should be able to tell from the images just how much I really adore this particular flower above all others. An enormous amount of work went into producing a photo collage with this much detail.
Instead of the back of the flat card being left plain, as is the case with so many invitations that you buy, I have designed the back to complement the front of the card with the matching rustic wooden background and the same golden color butterfly which is shown in all its glory.
Back of the Invitation Design with the Golden Color Butterfly and Rustic Wood
You can find more details on my design over on the product page at Zazzle. This site has many more beautiful custom invites and announcements which you can view and then easily order online. This should all help to ensure that all your planning for the big day runs smoothly.
It's incredibly easy for you to fill in all your details because the product page has some simple text boxes. These can be either filled in with your own details about the wedding or left blank if you don't need to use that particular section. Suggestions on the type of wording that you need have already been made for you. How easy is that.
More Wedding Invitations with a Sunflower Theme
Mason Jars, Burlap and Twine are All Modern Trends for this Special Occasion
All of the invitations in this section can be easily personalized with your own details online before being specially printed for you and posted directly to your home. The back of the invitation design contains all the date, time and location information that you can add in to it online.
Hand-picked for you are a range of delightfully traditional and Elegant Wedding Announcements from Zazzle that all have the classic and soft colors of butter yellow.
These designs should work beautifully for an event which is based around a conventional and traditional floral theme. Most guests will be able to identify well with a scheme like this. These announcements exude a classy, elegant and a timeless style for an event that really won't date.
The mason jar design above ;makes for a modern and fresh style that is really much more of the moment and makes for a very popular current choice. The same with the burlap and twine designs which are very current and on trend.
You can get an idea on trends if you look at popular sites such as Pinterest. I think both of the designs are elegant in their simplicity and offer a really beautifully understated take on what this occasion means today.
Invite Ideas on Different Color Schemes with this Flower
Yellow and orange are rather obvious color schemes that always get used alongside this particular flower and that may be exactly what you want.
However, there are some really lovely alternative looks and designs that use different color choices and shades. Some of these may work better for what you have in mind.
Blue and yellow color invitations are a great choice for your sun flower themed event. For a start, it balances the wedding out so it isn't overly feminine.
Bright blues look particularly fantastic when contrasted with the gorgeous yellow and orange petals of this flower and because there are so many blue and yellow floral items and accessories, it's actually one of the easiest color schemes for you to work with on your big day.
Pink is one of my personal favorite colors and if I could do my wedding all over again, I'd probably pick an elegant and feminine pink announcement design. That would make for a very feminine and girly event which will ensure that some lucky lady gets the wedding of her dreams.
Black and white designs make for a very elegant, formal and modern celebration theme. My personal preference would be to enhance the classic black and white with just a touch of a bright color as well.
Adding a pop of color will help to prevent your event from looking a little cold and stark. It does make for a really modern theme that you can easily co-ordinate when buying items.
My choice of a really awesome black and white style is this wonderful chalkboard style. This variation is bang on trend with the bold black background and the white chalk style lettering among the feminine golden orange fonts. I love this striking custom design.
DIY Printable Wedding Invite Coming Soon
Sunflowers are very much a favorite flower and I love making photo collages too. Coming soon is a traditional and elegant autumnal design which has a country style to it along with a rustic background of knotted wood.
Also included is a stunning flower and butterfly in golden hues in front along with some fall and autumnal leaves. This non-customizable print-it-yourself design is coming soon along with a tutorial on making and printing the item. It's actually based on the exact same Fall design that sells in my online print on demand store at Zazzle.
Zazzle is where you can order professionally printed announcements at very reasonable prices and save time by filling out all the details online too. Matching postage stamps are also available. See all the co-ordinating items in my FallFancy Zazzle Store.
More Ideas for Your Floral Wedding Invites
For customizing your very own Wedding stationery, craft stamps are an excellent choice. Simply dab some stamping ink onto the raised stamp surface and then press down onto your paper to decorate envelopes, thank you cards and your own personal announcements too. Stamps can be used over and over with your own choice of ink colors.
Clear stamps are wonderful because you can see exactly where you are positioning them on your craft project for perfect application. The clear versions require clear acrylic blocks for stamping with. You can use them to enhance your stationery.
On this page, you've seen several different beautiful styles of invitations. Take your time, go back up and browse through all the pictures. When you find a design which you love, you can select the image itself and you'll be transported to a new page which displays the actual product in more detail.
On some sites such as Zazzle, you'll be able to personalize the exact wording of your announcement card yourself and also choose the style, size and paper type if available. For larger orders, normally over 25 invites, there are often discounts available on the pricing. Envelopes are provided in the cost of the order. Have fun choosing.
Related Content You Should Also Love:
Page Last Updated:
Articles are accurate and true to the best of the author's knowledge. Content is for informational or entertainment purposes only and does not substitute for personal counsel or professional advice in business, financial, legal, or technical matters.